Hi!
Me again on notifications.
Use Case:
I like all Collaborators to be notified on any change to a table, except the user that made the change. Seems reasonable, I am making the changes so I don't have to be notified.
I thought this could be possible by making a Notification rule as displayed in the screenshot below.
I am in the assumption that every change is being triggered (Watched all fields), and because of the Filter condition "Last Modifier = include the current user" I won't get the notification. Perhaps I am interpreting this incorrect, but I read it as: when the last modifier is the current user (= me), the notification wont be sent to me, but it will be sent to the other users in the Action section.
I am probably interpreting this wrong because with this setting nobody gets a notification.
Assuming I am doing it wrong, please advise how to setup my Use Case.
And what is the use of the "include the current user"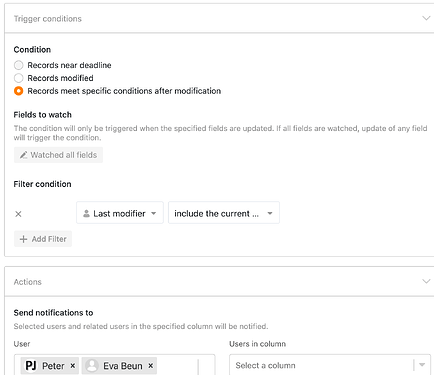 Peter