Hi everyone !
I noticed something a bit annoying, which is probably not exactly a but, but definitely would be better if it worked using a slightly different strategy…
When you create a Grouping view, each group starts with a "header" summarizing interesting information like count, sum, etc. The first column of this header contains the name of the parameter used as grouping parameter.
If this parameter is linked to another table, it is cropped, which is not a bad idea, as it can be too long to be displayed entirely. However, the cropping strategy is pretty weird : it seems to remove the 3 or 4 last characters, regardless of the length of the parameter !
Let's look at a very simple example, with three families presented in a first table (see below)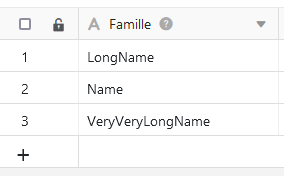 As you can see, their names have different lengths.
Now, I create a second table, linked to the first one, with hours of volunteering data for each family. If I create a grouping view for this second table, here are my headers :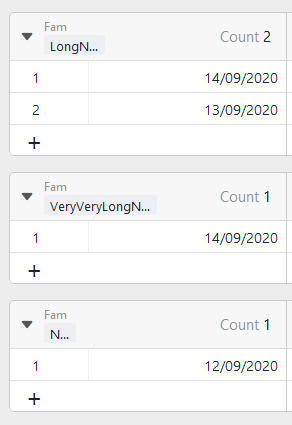 As you can see, the shortest family name, "Name", is cropped to one single letter, which is not really convenient for differentiation ! Ok, I admit (or rather I hope), nobody is called "Name"

but it can be complicated with short identifiers anyway. Is it possible to crop the grouping parameter only if it is longer than a defined number of characters ? I would be great(er than it is already !).
Thanks a lot,
Bests,
Benjamin