I have two columns with start date and end date. I want to display information on a course on a website as follows (via Integromat/Make ):
Start date - end date
Start time - end time
I already have the start date and end date nicely formatted. The respective columns are only set to display the date. But I could select the option to show the time (so: in the start column, also the start time, in the end column, also the finish time).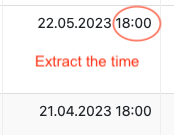 I could achieve this in Integromat, but first wanted to see if there is a formula to allow me to simply extract the time to a separate text column which I could then pass on to Integromat?