Hello devs, first kissing some butt this dev team is second to none great work. Ok that aside, I wanted to touch base on the kanban plug-in and throw in a long shot for a feature to be added asap my company principles love this.
As I've stated before, my use case is a screen printing shop. We currently use a kanban board built into a google sheet to move "production tickets" containing information about the work order needing to get completed such as a blue column to show screen as ready, green to show garments ready to print, order description, amount of screens needed, impressions and ship date. See below, order description has been redacted due to client privacy.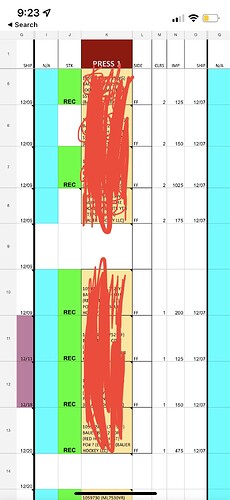 Thanks to seatable I've been able to build an enhanced kanban board linked to various tables that can generate our work orders, purchase orders, track inventory etc. utilizing the page designer and then also display them in a similar "production ticket" on a board. See below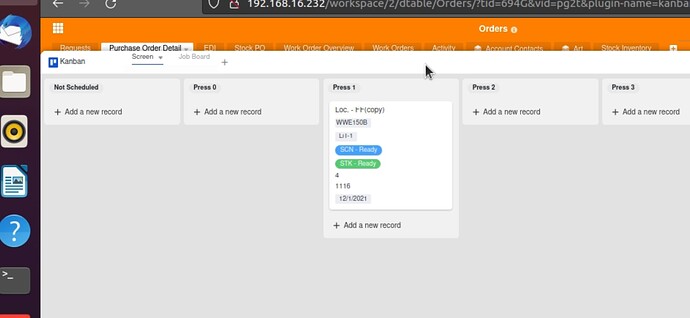 What I am requesting is a wider card with essentially two columns used to display the information instead of the card expanding in vertical length based on the columns selected to display. As shown in the first screen shot we are able to display like 7-8 tickets on a screen based on on our browser zoom settings (we can go up to like 15-16 tickets on larger screens. On the second screenshot showing our board built in seatable, using the same amount of information as the sheet (essentially 8 columns of information), the card is very long. Even zooming out completely in the browser we are still only able to show about 4-5 cards in a status (or scheduled on a press in our case).
Having a split column in each card with each card being slightly wider to allow this info to be displayed to essentially in our case have 4 rows per column will allow us to view more "production tickets" simultaneously and enable our scheduler to work much more Efficiently.
Any one I can bribe to get this to happen??? Hahaha thank you alll!!