Hi guys,
New here and not familiar with the way tokens are handled here and still confused with the API reference.
Trying to authorize my app (right now the app builder) to access the database rows for read and write.
So I've input the base URL https://cloud.seatable.io and the 40 char "access token" I created from my web interface (along with/without the Accept: application/json; indent=4 header)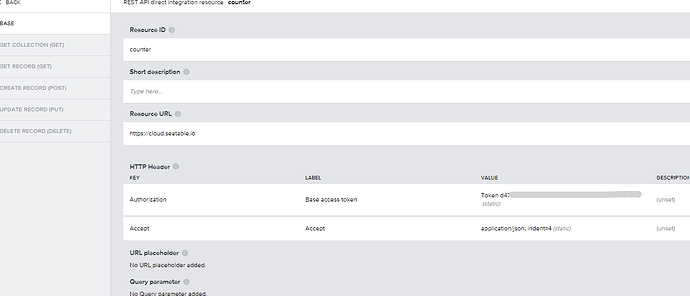 But I get the "error_msg":"you don't have permission to access" Status 403.
In my GET collection interface, I've followed the doc SeaTable API Reference GET List Rows and added the relative path to the base URL:
GET /dtable-server/api/v1/dtables/650d8a0d-7e27-46a8-8b18-dbvh46/rows/?table_name=Table1 HTTP/1.1

Authorization: Token eyJ0eXAiOiJKV1QiLCJhbGciOiJIUzI1NiJ9.eyJleHiOjE2MTQzNTI1OTQsImR0YWJsZV91dWlkIjoiNjUwZDhhMGQtN2UyNy00NmE4LThiMTgtNmNjNmYzZGIU3IiwidXNlcm5hbWUiOiIiLCJwZXJtaXNzaW9uIjoicnciLCJhcHBfbmFtZSI6InBvc3RtYW4ifQ.4aTmvBfFElyB3xg5jjF7zWCiyRZI17SZD980GdHT6e3

What am I doing wrong? What is this authorization token? It is Is it mine or an example? Same for the base_UUID, is it mine? If not where can I find it?