Some of our orders may have a few "order items" but some several dozen. So, there is a need to automatically create a new page as not everything will fit on one page.
When experimenting with linked table (SeaTable cloud) for creating invoices one can find an option "Add extra pages if placeholder does not fit all records". In the screenshot below we have 6 records with option enabled but order items are still trimmed.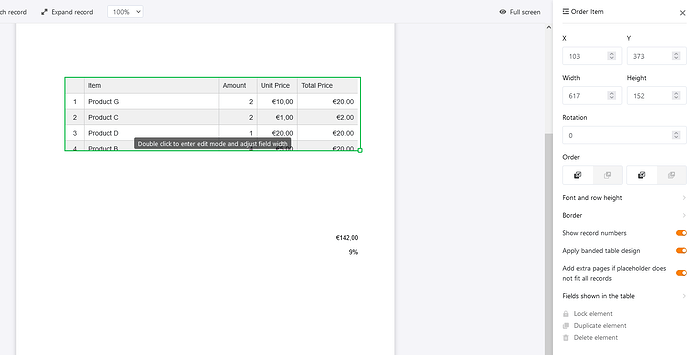 Is this a bug or my understanding is different ?
We need to have a subtotal of all records in "Total Price" column. Since there is no dynamic element positioning, simple using field element is not a solution for orders with different orders items (records).
Workaround with creating tens of templates is not a solution here also.
I haven't found an option to append a calculated field to the end of the linked table in page design template - which seems to be the best solution.
Can somebody share a method how to create "multi-item" invoice in SeaTable?
Thank you.