Hello,
I am using the API to populate a date column with "accurate to minute" turned on. Prior to upgrading to 3.0.16, the time would be properly populated. After the upgrade, all times show up as 00:00, as shown: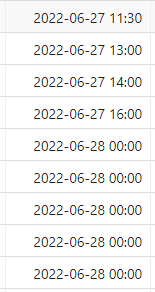 The string itself coming through the API looks like this:
"2022-06-28T18:00:00.0000000" (without timezone), or:
"2022-06-28T17:00:00+00:00" (with timezone).
I tried both variations (with and without timezone) and I get the same result both ways, all times come through as 00:00. It was working great before the upgrade, hopefully this can be fixed!
Thanks,
Peter