Hey community,
We have been using airtable in our company with around 100 employees for almost two years. Through the c't I became aware of seatable and last month I took a close look at the software.
I would like to share my experiences on this forum and the especially the developers of seatable. I really like the idea of a self hosted airtable alternative but currently I cannot sell it to my colleagues. If you are used to the usability of airtable, it is difficult to like the work with seatable.
In airtable you can work completely with the keyboard and enter and edit data super quickly:
SPACE opens the detailed view, TAB to jump through the columns, ENTER to display the options, select with the arrow keys and confirm with Enter. This is not possible at all in seatable. The workflow is constantly interrupted because you have to grab the mouse.
It is not possible to add a new single select option just by typing a new string and press ENTER. A rating value cannot be defined with the number keys…
Here a screenshot from airtable.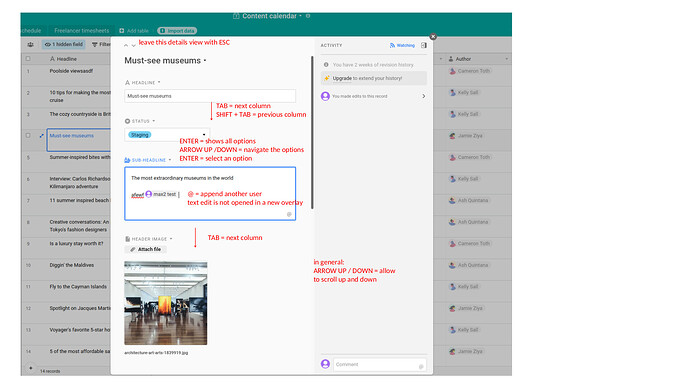 My summary for now: seatable has a huge potential. A self hosted airtable alternative with a self hosted automation tool like n8n. Wow, that is what we are looking for. We will keep an eye on seatable and re-evaluate it in some months. If you could improve the usability we might consider to use seatable in the future.